AISP LADIES IN CYBER SYMPOSIUM 2022
AiSP Ladies in Cyber Symposium was launched on 22 March with more than 150 female tertiary students and young cybersecurity professionals joining physical and virtually online. Mrs Josephine Teo, Minister for Communications and Information and Minister-in-Charge of Smart Nation and Cybersecurity, was the Guest-of-Honour for the event. We would like to thank all panellists Ms Tammie Tham, Co-Chair of the AiSP Advisory Council & Group CEO of Ensign InfoSecurity, and Ms Teo Yi Ling, Senior Fellow, Centre of Excellence for National Security, S Rajaratnam School of International Studies at Nanyang Technological University for taking their time off to join us for the symposium.
Click
here
to view the full symposium.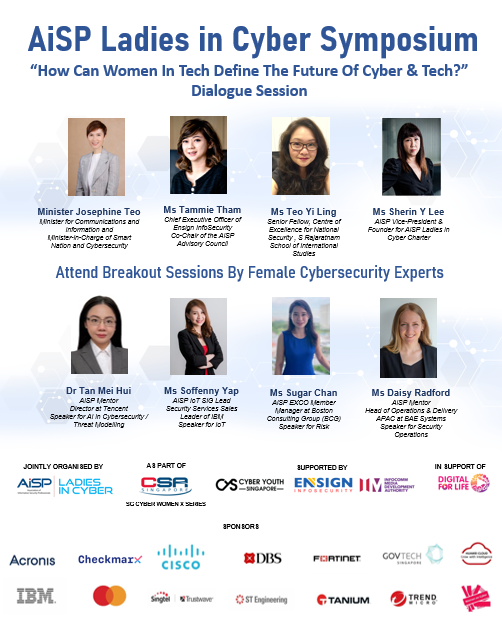 How can you contribute?
You can contribute by being one of the sponsors of the symposium. The event's sponsorship provides youths, especially female students, with a platform to know more about cybersecurity and its importance. Companies are also welcome to pledge their support.
Quotes from our Sponsors & Supporting Organisations:
"As a global cyber protection leader founded in Singapore, Acronis has a long, rich history of cultural diversity, equality and inclusion. We believe that having an inclusive and diverse workplace helps drive innovation and attract talent, which enables the organization to flourish.
The technology industry, and in particular, the Cybersecurity sub-sector, has traditionally had a higher proportion of male employees, making it harder to create opportunities for females to develop, progress and become leaders. Acronis strongly believes that every human should have the same chance to be successful in the technology industry. Diversity for the win — Acronis is committed to empower females in the technology industry, helping them to become successful, and providing opportunities to become role models for the next generation of female technology talent. To achieve a more diverse environment, we have implemented the #CyberDiversity initiative, and launched #CyberWomen with a mission to identify, educate, coach and inspire the next generation of female leaders.
Acronis is proud to be a partner and supporter of the AiSP Ladies in Cyber Symposium, one of our continuous efforts to contribute back to the local community through our work and external engagement, including building awareness on the importance of diversity."
—Aliona Geckler, Chief of Staff at Acronis


"Gender diversity has been a topic of discussion across industries, especially in the technology sector. While a lot of progress has been made, especially in Southeast Asia, to increase the participation of women in the ICT sector a lot more needs to be done to make this truly successful. To me there are a couple of key factors that will play a role in that.
Firstly, companies must strive to cultivate a vibrant and diverse culture that affords all employees the opportunity, flexibility and autonomy to perform the best in their roles.
Second, the onus is on leaders to ensure that they create growth opportunities that contribute to the retention and upward movement of women. At Cisco, we have launched initiatives like Connected Women serve to empower and celebrate women at Cisco, bringing together employees across our global operations for mentoring and networking events to support their development and well-being.
Creating the right environment, having initiatives aimed at empowering career growth, coupled with support of leaders and policymakers will pave the way for a more gender diverse and inclusive future for our industry."
—Andy Lee, Managing Director, Singapore and Brunei, Cisco


"Female representation in cybersecurity is low across the globe, likely caused by a combination of erroneous image perception and insufficient awareness education.
A woman's eye for details, their intuition and a different perspective could be vital in detecting insignificant flaws that could lead to a large system breach.
More women in cybersecurity need to happen to achieve a balanced, effective and encompassing approach for the industry."
—Edwin Lee, Regional Director for ASEAN, Checkmarx


"The cybersecurity industry has diverse, exciting and meaningful career opportunities.
Initiatives like this symposium encourage more ladies to learn about, take up these opportunities and get to know others in this sector.
This is important as strong participation by women and men in cybersecurity is crucial to building a vibrant, cyber-safe smart nation for all.
—Selwyn Sean Scharnhorst, Director of Ecosystem Development Division, Cyber Security Agency of Singapore


"The increase in female tech role models and events encourages more female youths to pursue their interest in cybersecurity. It is important to provide opportunities for young females to learn and experience what it's like as a female in the tech industry. We are thankful for the opportunity to provide the females in our community the chance to participate in this AiSP Ladies in Cyber Symposium."
—Yong Hui Ting, Vice President and Chief Operating Officer, Cyber Youth Singapore


"Ensign InfoSecurity aims to encourage greater women representation in the cyber industry and to build a vibrant cybersecurity ecosystem. We are delighted to participate in this AiSP Ladies in Cyber Symposium, to help connect many aspiring female cyber talents with woman role models and to encourage more females to pursue a career in cybersecurity. "
—Diana Tan, Executive Vice President, Corporate & Chief Legal Counsel, Ensign InfoSecurity


"Fortinet is committed in building a gender-inclusive and diverse workplace where employees feel welcomed, respected and valued. In Singapore and across the world, where there is a talent shortage that leaves organisations struggling to protect important assets amidst rapid digital innovation. There tend to be a perception that roles in tech & cybersecurity are generally male-dominated. However, in the recent years, we have seen more women taking on tech roles and even in senior roles like CISO, in both private and public sectors.
It is important that we continue to provide early education to the youth, especially female students and help them chart a career in cybersecurity. Fortinet has partnered and donated to numerous non-profits such as Women in Cybersecurity (WiCys) in the US and WOMCY in Latin America to provide education and career pathways through Fortinet's award-winning cybersecurity certification program, known as NSE. We are honored to be able to support AiSP's efforts in enabling the female tech community in Singapore, and be part of AiSP's youth education outreach on cyber awareness. "
—Jess Ng, Country Head, Singapore and Brunei, Fortinet


"GovTech believes a diverse workforce and an inclusive work environment are crucial factors to be innovative and user-centric, as we fulfil our mission of 'Engineering a Digital Government, Making Lives Better.'
Today, GovTech has various outreach & engagement efforts towards early and professional female talent while we actively support industry initiatives, including the AiSP Ladies in Cyber Symposium.
As a female tech leader, I am encouraged by the growing interest in cybersecurity among current and upcoming female tech talent. I urge the industry to continue working together closely so we can make greater strides in achieving better gender diversity in tech as a whole. "
—Lim Bee Kwan, Assistant Chief Executive for Governance and Cybersecurity, GovTech


"At Mastercard, diversity, equity and inclusion are about more than bringing together people with different backgrounds. We believe that when we cultivate a culture where everyone belongs we are a better team – one that makes better decisions, drives innovation, and produces better business results. The tech industry is often called out for its lack of diversity, and so it's critical that all ecosystem participants work to proactively promote greater diversity and inclusion. In an increasingly digital world, cybersecurity is a growing and essential field that offers a diverse array of roles and opportunities, and impacts people
of all backgrounds. We are thrilled to be a sponsor of the AiSP Ladies in Cyber Symposium, and to play a meaningful part in helping unlock opportunities"
-Matthew Driver, Executive Vice President, Head of Services, Asia Pacific, Mastercard


"At Responsible Cyber, we believe in gender equity. We ensure that we support the process of being fair to women and men. To do so, we support initiatives, strategies, and measures that compensate for women's historical and social disadvantages, especially in the cybersecurity industry. While the industry has only 20% of female professionals, an increase from last year as per ISC2 report, this is not enough. As a CEO, I favour measures like scholarships, sponsorships, and others events that provide women an opportunity to enter and evolve in the field ."
—Mikko Laaksonen, Chief Executive Officer & Technical Information Security Officer On Demand, Responsible Cyber Pte. Ltd


"Trust yourself to pursue your passion and challenge the norm.
I see an abundance of opportunities for more women blazing the trail as innovators, engineers, and technologists.
I hope to continue supporting the efforts of celebrating accomplished women.
By sharing our success stories with young women, we can prove how cybersecurity careers can be amazingly rewarding for anyone with curiosity and passion."
—Dr Vrizlynn Thing, Senior Vice President, Head, Cyber Security Strategic Technology Centre, ST Engineering


"We are honoured to be part of the AiSP Ladies in Cyber Symposium. This event is an opportunity to foster, recognize and celebrate diversity.
Diversity is vital for all cyber careers and business in general. Diverse lenses allow the industry to solve complex problems by bringing many experiences and perspectives to the table.
In the field of cybersecurity, women are highly underrepresented, and reports show that women account for only 10% of our workforce across the Asia-Pacific.
Events like the AiSP Ladies in Cyber Symposium shines a light on the importance of diversity and the incredible work of women in cyber. It provides a platform to celebrate diversity and as an industry work together to achieve gender parity."
—Alvin Tan, Regional VP, ASEAN, Tanium


"At Trend Micro, we believe that women and a diverse workforce are the future of cybersecurity. We know that diversity is the key to the innovation and advancements needed to protect the world from the rapid increase of threats. We offer education and experiences to help more people discover and hone their unique superpowers, and are committed to helping women to learn the skills they need to start and advance their careers. We are proud to support the AiSP Ladies in Cyber Symposium, as we aim to make a positive impact in the industry, and see every woman in tech accepted, confident and valued. "
-Nilesh Jain, Vice President, South East Asia and India, Trend Micro


"At Trustwave, we proactively seek diversity and supports its importance with a Global Diversity Council.
It is important to build a more diverse, gender-balanced cyber team because, ultimately, it's a diversity of thought and perspective that gives the balance, depth and insights to crack the problem.
Today, many female cybersecurity professionals are breaking barriers and setting new precedents, serving as examples for the women who will follow in their footsteps.
We are inspired and motivated by them, and we are proud to join AiSP Ladies in Cyber Symposium in making the rallying call to remove barriers that everyone can advance in a highly technical field of cybersecurity."
-Edwin Lim, General Manager, Asia, Trustwave, a Singtel company
JOINTLY ORGANISED BY

AS PART OF
SUPPORTED BY



IN SUPPORT OF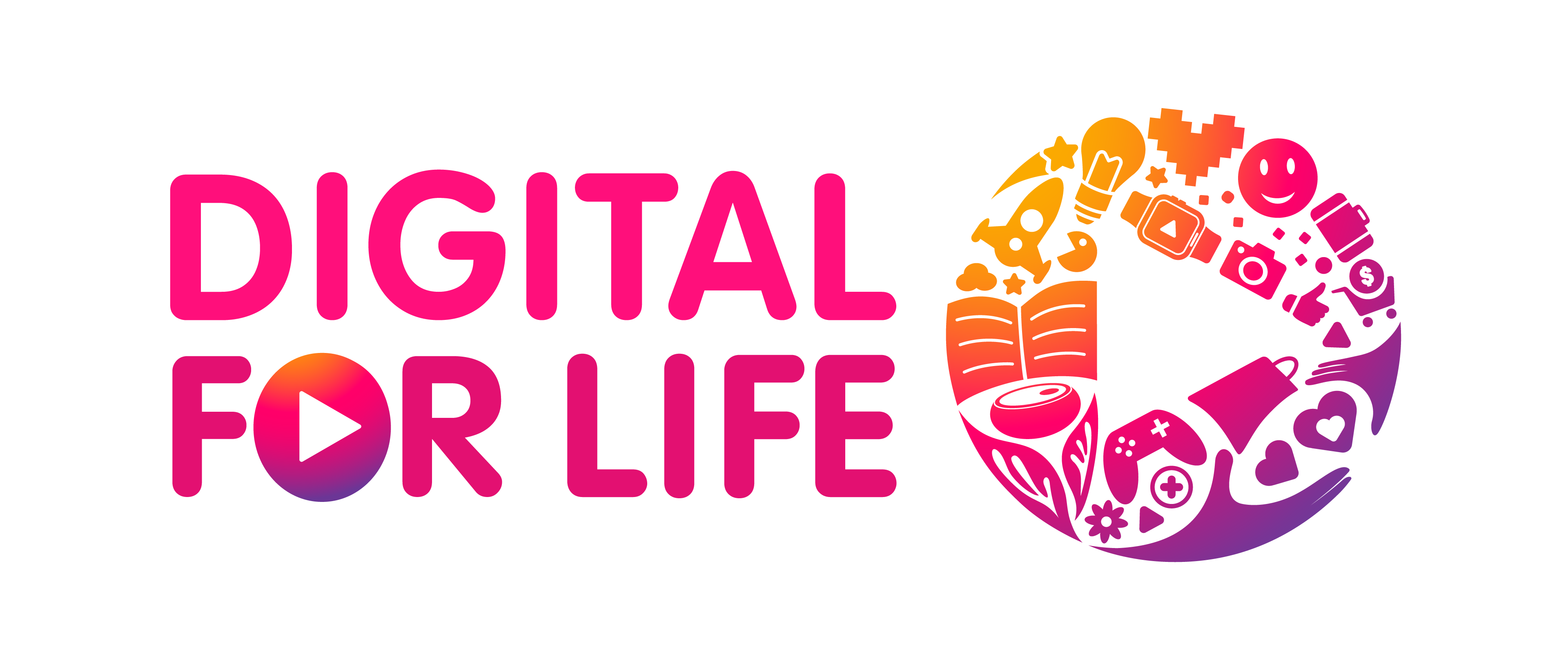 SPONSORS